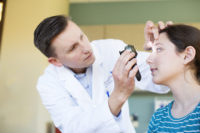 Dermatology Consultants has an opening for a new or experienced BC/BE medical dermatologist. Dermatology Consultants provides an excellent work environment where you will practice with 20 well respected, board-certified dermatologists.
We provide a full spectrum of services including general dermatology, surgical dermatology, cosmetic dermatology, patch testing, and Mohs. You'll have the opportunity to use the latest in dermatologic devices including the newest laser, ultrasound and other technologies. UVB/PUVA phototherapy and excimer technologies are available.
The benefits of working for Dermatology Consultants include:
Established reputation for excellent care and service
Four attractive and well-designed facilities
Internal dermatopathology laboratory and dermatopathologists
State-of-the-art general and cosmetic technologies
Dedicated medical assistants and scribes
Customized Dermatology Specific EHR in use since 2012
Physician-owned and governed
Excellent compensation and benefits
Partnership opportunities
Full-time or Part-time option
Please email your CV and letter of interest in confidence to Bill Kenney, CEO here.