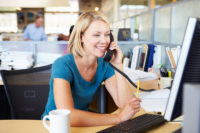 The Patient Access Specialist is responsible for making appointments for patients following Dermatology Consultants' procedures. The Patient Access Specialist assists patients on the telephone, schedules appointments, gathers accurate demographic information and insurance information, and registers patients.
Duties and Responsibilities:
• Provide patient-centered customer service
• Answer multi-line telephone and assist patients in a pleasant manner
• Schedule patient appointments using computerized scheduling system (Cerner)
• Schedule appointments to best meet the needs of the patient in adherence with our physicians' schedule and availability
• Register patients, verify and update patient data, prepare necessary confirmation letters, welcome packets and forms to send to patients
• Verify insurance eligibility
• Reschedule and cancel appointments as needed
• Maintain strict confidentiality of patient health information
• Other clerical duties as assigned such as online appointment requests, scheduling interpreters, patient portal invitations and referrals.
Minimum Requirements:
• HS Diploma or equivalent.
• 1-2 years' experience in scheduling or reception in a healthcare setting
• Experience scheduling appointments, registering patients, and obtaining/verifying insurance information
• Ability to communicate calmly and clearly with patients and others on the phone
• Knowledge of customer service principles and techniques
• Ability to operate standard office equipment including multi-line telephone, computer and fax machine.
• Ability to navigate computerized scheduling system (Cerner)
• Knowledge of insurance preferred
• COVID-19 vaccination
Schedule: Monday –Friday, 40 hours/week, 8 am to 4:30 pm