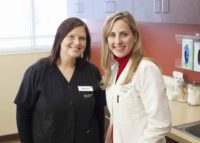 Join a Top Workplace!! Dermatology Consultants is happy to be named a Star Tribune Top Workplace for the 3rd year! Founded in 1949, we are a thriving private dermatology practice with 22 physicians and 4 clinic locations in the East Metro. This position will follow a cosmetic/general dermatologist between our Woodbury and Eagan locations.
The Medical Assistant or LPN collaborates with the physician on the patient care team. Responsibilities include a variety of hands-on patient care duties including assisting with patient flow, assisting the physician, assisting in cosmetic procedures, surgery assisting, Electronic Medical Record (EMR) scribing, lab duties, and phlebotomy.
Duties:
• Provide direct assistance to physician with surgical and medical procedures such as surgery, excisions, biopsies, wart treatment, etc.
• Provide assistance to the physician with cosmetic procedures including Botox, fillers and laser procedures
• Room patients and stay with patient throughout visit to scribe for physician in EMR system
• Perform clinical and administrative duties including injections, phlebotomy, instrument cleaning, specimen handling, phone calls, scheduling, and patient education
Qualifications:
• Completion of an accredited Medical Assistant or Practical Nursing Program with a current Medical Assistant Certification (CMA, RMA or LPN) or ability to obtain certification within 6 months
• Ability to work in a fast-paced, exciting environment
• Ability to multi-task and to provide services to patient in a warm and professional manner
• EMR experience
Schedule: Monday – Friday, 40 hours per week.