OUR SERVICES
BOTOX
BOTOX®, a facial injectable that derives from a purified form of botulinum toxin Type A, is intended to diminish unwanted facial wrinkles. BOTOX injections effectively block muscular nerve signals, in turn weakening the muscles that create frown lines, crow's feet, forehead furrows, and skin bands on the neck. BOTOX is the most popular, non-surgical cosmetic procedure in the country, among both men and women.
Real patient. Real results. These photos show an actual Dermatology Consultants patient before and after BOTOX treatment: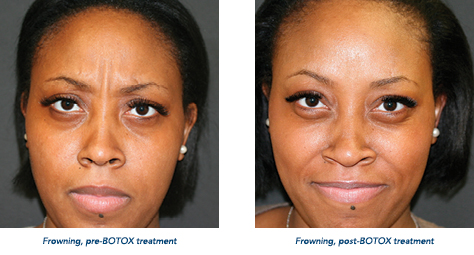 Treatment performed by Dr. Tina Shaffer
Click here for a slideshow of actual Dermatology Consultants patients before and after BOTOX. Real Patients. Real Results. 
The Distinction Between BOTOX and Dermal Fillers
Botox® is strictly designed to smooth lines and wrinkles that come from muscle movement while preserving a person's natural facial expressions. Dermal fillers "fill in" lines and wrinkles for a more youthful, fullness to the face. Fillers can also plump lips and enhance shallow contours of the face. Depending on the patients' condition and physician's recommendation, a patient may choose to receive both Botox® injections and dermal filler injections for optimal facial rejuvenation results.
Ideal Candidates for Botox:
During your consultation with a physician at Dermatology Consultants, your skin and health will be assessed. You may be a good candidate for BOTOX if you are unhappy with the lines and wrinkles that have developed around your forehead and/or eyes, are in good physical and emotional health, and have realistic expectations.
The Procedure
A single BOTOX treatment session usually takes about 10 to 15 minutes, during which the physician will use a tiny needle to inject the specific muscles of the desired location.  The amount of time per session will be based on the extent of the patient's wrinkles and how many injections are needed. No anesthesia is required; however, a topical anesthetic cream may be applied to alleviate any discomfort.
Botox® does not involve a recovery period; there is no downtime. You can resume normal activities directly after treatment, but should avoid any strenuous exercise for at least 24 hours.
Duration of BOTOX Results
Results of BOTOX injections are usually most visible about a week after a single treatment session. Generally, the effects from BOTOX will last anywhere between three and six months. In order to maintain a desired youthful appearance, the individual will require additional sessions. (Touch-up treatment may initially be needed one to two weeks out.)
The Most Common Side Effects
BOTOX is regarded as a safe, anti-aging treatment for the lessening of wrinkles. However, just like any cosmetic procedure, there are potential problems that may occur after treatment. The most common side effects and complications associated with Botox® include: bruising, redness, pain at the injection site, headache, flu-like symptoms, temporary muscle weakness or drooping of the upper eyelid muscles, or nausea. It is very rare for Botox® to spread beyond the treatment area.
The Cost of BOTOX Injections
The cost for individual Botox® treatment sessions may vary, as it is based on particular factors, such as how many lines and wrinkles need to be targeted and the depth of those aging signs.
At Dermatology Consultants, we look forward to your visit. Please call (651) 209-1600 to schedule your appointment today!
News & Events
Affiliated with Major HealthCare Organizations
Our affiliation with most Minnesota healthcare organizations ensures a smooth transition for patient care.
LEARN MORE
For Patients
Online Bill Payment
In order to better serve our patients, we have a new online bill pay system that will allow you to enter your payments quickly and easily.
Pay Your Bill Now
For Patients
Patient Information
Download a variety of online forms including new patient and medical history forms, Mohs information packets, and our financial policy.
View Forms