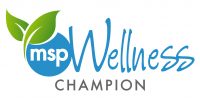 We're proud to announce Dermatology Consultants has been named a mspWellness Champion by mspWellness. mspWellness Champions are chosen based on their dedication to workplace wellness and are selected based on their commitment to creating, executing, and promoting workplace wellness as part of their organizational culture.
mspWellness, a partnership between the Minneapolis Regional Chamber and the Minneapolis Health Department, created the mspWellness Champion designation to celebrate businesses that make and support a healthy work environment and have a positive impact on the health and wellbeing of their employees and their communities. Organizations that create, implement, and promote wellness programs as part of their organizational culture will be recognized through this program as mspWellness Champions.
This partnership is made possible by the Minnesota Department of Health's Statewide Health Improvement Partnership (SHIP), funding that serves as a powerful catalyst for creating healthier communities. Through SHIP, the Minneapolis Health Department partners with schools, neighborhoods, worksites, and clinics to make sustainable community-driven changes that help everyone eat healthy, be active, and live tobacco-free.