Enter our Treatment to Transformation giveaway and you could win two (2) CoolSculpting treatments from Dermatology Consultants.
CoolSculpting is an FDA-cleared, non-invasive procedure that uses cooling technology to selectively reduce fat layers in problem areas like the abdomen and flanks. Once the fat cells are removed they are permanently eliminated. Most people need at least two treatments per site to achieve the best results and many receive several treatment to achieve a true "Treatment to Transformation."
To enter the Treatment to Transformation CoolSculpting Giveaway  like us on Facebook at DermatologyConsultantsMN and click on the special giveaway button. If you are not a Facebook user, you may enter the giveaway by using the form below: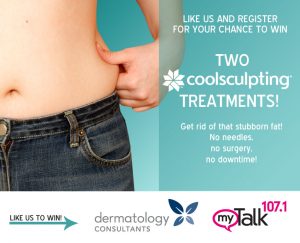 Listen to the MyTalk107 Radio Spot
CoolSculpting is not a weight loss solution for people who are obese, or a substitute for surgical methods such as liposuction. Good candidates have noticeable bulges in certain areas they'd like to get rid of.  A Dermatology Consultants doctor will determine if treatment is right for you during a one-on-one consultation.
Rules for Treatment to Transformation CoolSculpting Giveaway
Entrants must be over the age of 18.
Entry to the giveaway can be made via the promotion button on Dermatology Consultants' Facebook page or by the email form provided on this page.
This promotion is in no way administered, sponsored, or endorsed by Facebook.
A complementary consultation will be performed for the winner. Should this person be deemed NOT a good candidate for CoolSculpting, the prize may be transferable.
Prize must be used within one year of drawing.
The winner must schedule first CoolSculpting treatment within 30 days of consultation.
The winner will be drawn randomly on August 19, 2013 and a winner will be notified within five business days by email.
Only one entry per person is allowed.