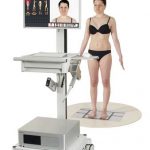 FotoFinder bodystudio is a digital mole mapping system that provides your dermatologist with a precise set of photos of the moles on your entire body.  FotoFinder takes high-resolution digital photographs and uses sophisticated software to monitor your moles. It compares a series of photographs to your baseline photos allowing for the early detection of new or changing moles.
Studies published in scientific journals have found that full body digital mole mapping helps with the early diagnosis of melanoma, and it is recommended for patients who are at risk for developing melanoma. Although the FotoFinder is not a replacement for full body skin examinations with your dermatologist, it provides extremely helpful data to assist your doctor with detecting suspicious abnormalities at an earlier stage.
FAQ about Digital Mole Mapping with Fotofinder bodystudio.
Good candidates for digital mole mapping may have the following:
Multiple moles
Personal or family history of melanoma
A previous diagnosis of dysplastic moles
Large and/or oddly shaped moles
Noticeably changing moles
New moles
A history of severe, blistering sunburns during childhood or adolescence
Tanning bed use
Very light skin/pale complexion
Digital mole mapping does not replace your annual full body skin exams!
Digital mole mapping is a way to assist your doctor with screening for melanoma, it does not replace full body skin examinations. Your dermatologist will recommend how frequently you should have full body skin exams and digital mole mapping. Digital mole mapping is an excellent tool for monitoring moles and pigmented lesions but the software at this time does not track changes for pink or red lesions such as actinic keratosis or basal cell carcinoma. Thus, it is very important to have full body skin exams by your doctor to screen for all types of skin cancer including melanoma, basal cell carcinoma, and squamous cell carcinoma as well as for precancerous lesions such as actinic keratosis
Call 651-209-1600 or request an appointment online  to schedule a full body skin exam and determine whether you are a candidate for digital mole mapping with FotoFinder bodystudio. Digital mole mapping with FotoFinder bodystudio is currently offered only at our Woodbury office. If you see a doctor at one of our other offices, they will be able to review your results. You may continue to receive your regular skin exams with your preferred doctor at any location.