You're invited to take advantage of a CoolSculpting Special Offer! When you purchase a Treatment to Transformation CoolSculpting package of 2 or more same-area treatments, Dermatology Consultants will discount the total cost by $100!  Just mention that you saw this Special Offer page when you book your consultation at any one of our four locations.  Your first treatment must be scheduled by May 1, 2014 to qualify.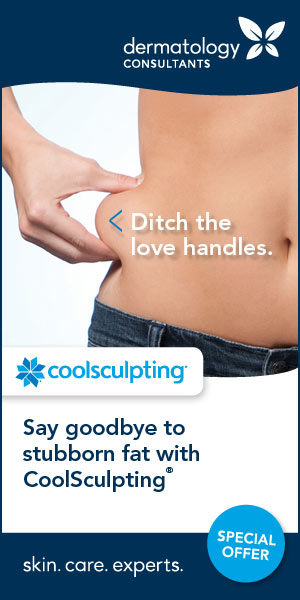 Schedule a consultation now by calling 651-209-1600 or request a consultation online! Interested in other cosmetic services? Visit our site here. 
CoolSculpting is an FDA-cleared, non-invasive procedure that uses cooling technology to selectively reduce fat layers in problem areas like the abdomen and flanks.  When fat cells are exposed to extreme cold, a process of natural removal is triggered, gradually reducing the thickness of the fat layer. The result is a visible reduction in fat bulges, while the surrounding tissue is left unaffected.
CoolSculpting is non-invasive and requires no needles, surgery or downtime. Most patients can resume most daily activities right after a treatment that usually lasts one to two hours. Some areas require more than one treatment depending on different factors.
CoolSculpting is always done at Dermatology Consultants under the supervision of a board-certified Dermatologist.The photos below show an actual Dermatology Consultants' patient before CoolSculpting treatment on the abdomen and four months after CoolSculpting treatment. Real patient. Real Results.