Dermatology Consultants offers a personalized Wedding Skin Package for brides, mother of the brides and the entire bridal party. This includes a consultation with both a board-certified dermatologist and our experienced esthetician.
Together we'll  formulate a customized skin care plan to meet your individual needs and goals. You want your skin to look and feel its best on this very important day. Call us at 651-209-1600 to schedule your consultation today! 
Dermatology Consultants Wedding Skin Package offers a 10% discount off all cosmetic procedures, products and services recommended within your personalized skin care plan.   It's best to schedule an initial skin consultation at least 3 to 6 months prior to the wedding date. However many treatments can work in the short term.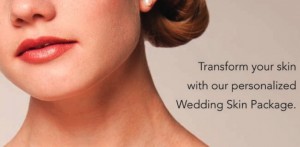 For mature brides and mothers of the bride we offer a full line of skin rejuvenation procedures including skin tightening with Ultherapy, brown spot removal and wrinkle removal with Fraxel laser treatments.
Plus, the doctors at Dermatology Consultants are the Twin Cities CoolSculpting Experts. If you want to remove love handles and other areas of stubborn fat, call us about CoolSculpting!
All eyes will  be on you. Schedule your consultation today by calling 651-209-1600.