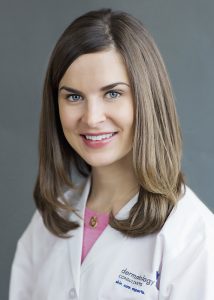 Dr. Jessica Morrell  is now accepting appointments at our Saint Paul office. Dr.  Morrell practices general, cosmetic dermatology and dermatologic surgery, and conducts skin cancer screenings.
Dr. Morrell completed medical school at the University of Minnesota Medical School, her internship at Hennepin County Medical Center and her residency at Marshfield Clinic Dermatology where she was Chief Resident from 2014-2015. Dr. Morrell graduated with honors from the University of Wisconsin-Madison with a Bachelor of Science degree in Psychology.
"I am thrilled to be joining Dermatology Consultants, a practice that has been serving the community I grew up in for years. The chance to work everyday with this group and have a positive effect on other people is truly the chance of a lifetime."
Dr. Morrell  belongs to the American Academy of Dermatology, the American Society for Dermatologic Surgery, the Wisconsin Dermatological Society and the Women's Dermatologic Society.