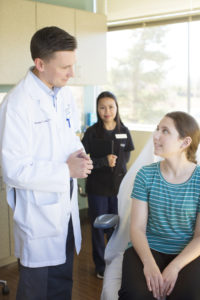 You may be wondering when and why it's important to see a board-certified dermatologist, especially when there are so many over the counter products on the market that claim to treat a wide variety of skin conditions. The truth is you do not know what condition you really need to treat unless you are first diagnosed by a doctor. Dermatologists are trained to diagnose and treat over 3,000 conditions affecting the skin, hair, nails and mucous membranes. Dermatologists are also able to see patients of all ages, from newborns through to the elderly.
Becoming a dermatologist takes tremendous time and dedication. In order to become a dermatologist a person must complete a 4 year bachelor's education, 4 years of medical school, 1 year internship and 3 or more years in a dermatology residency program. 12,000-16,000 patient care hours are required of board-certified dermatologists. There are many subspecialties of dermatology, as well, each requiring special training.
No self-diagnosis can match the expertise of a board-certified dermatologist and in many cases a general practitioner may refer you to a dermatologist.
The American Academy of Dermatology has a comprehensive guide to understanding why it's important to see a dermatologist here. We recommend checking it out!