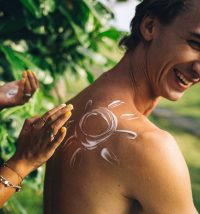 There's been a lot of confusing information about the recall of certain types of sunscreen since May. What we know for sure is that some spray sunscreens, especially those by Johnson & Johnson, have been voluntarily recalled after a pharmacy called Valisure found them to contain a compound called benzene. Benzene is a known carcinogen, and since sunscreens are evaluated as over the counter drugs by the FDA, they are evaluating the risk factors in skin absorption or inhalation of benzene through these sunscreens.
This does not mean that all sunscreens should be avoided. It's still critical you use sunscreen daily. We do know that skin cancer is the most common form of cancer and sun exposure is the biggest cause of it. As for benzene, as Dr. Jozef Lazar explains in the video below, we likely come in contact with benzene in some form or another throughout our lives. It's a common ingredient in things like gasoline and rubber, and even hand sanitizer. It's come under scrutiny, but we don't know all the facts yet about how it could potentially impact us when used in sunscreen, particularly spray on sunscreens.
A good rule of thumb if you're concerned is simply to use sunscreens that don't contain benzene. There are plenty of options. We highly recommend the brand EltaMD for safety and effectiveness. We sell EltaMD sunscreen at all of our locations.
Quick facts about the sunscreen recall:
In May 78 sunscreens, mostly spray on varieties, were found to contain a carcinogen called benzene
Johnson & Johnson conducted a voluntary recall on their spray on sunscreen products (Neutrogena and Aveeno aerosols) and CVS paused sale of two of their CVS brand after-care products
The FDA is evaluating use of sunscreens containing benzene; it is likely benzene evaporates before it's absorbed into skin and risk from inhaling it has not been determined
Most sunscreens are benzene free and remain safe to use; when in doubt contact the manufacturer for a full list of ingredients
It's vital you continue to protect your skin with sunscreen SPF 30 or higher; for safety and effectiveness we recommend EltaMD brand sunscreen
We have a wealth of research that shows sunscreen prevents skin cancer by shielding your skin from UV radiation
Skin cancer is the most common form of cancer, with more people diagnosed with skin cancer annually than all other cancers combined, and is in the majority of cases preventable
In addition to sunscreen you can also wear protective clothing like UPF rating sun shirts and hats when exposed to the sun during peak hours (10am-2pm)
Keep track of recalls through the FDA website, Consumer Product Safety Commission website and the American Academy of Dermatology website
EltaMD comes in safe lotion form; we sell EltaMD sunscreens in all our locations and it's highly recommended by our dermatologists
Most importantly, don't let this deter you from practicing good sun safety. Most sunscreens, especially EltaMD, are safe to use and far safer than exposure to the sun's harmful radiation, which we know causes cancer. Protect your skin!