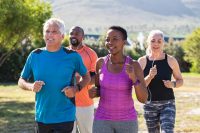 As we head into the warmest months of the year, we'll be wearing lighter gear, which means more skin could be exposed to the sun's harmful rays. This can put all of us at a higher risk of skin damage and skin cancer, and with so much time spent outside, runners can be particularly vulnerable.
"Running is great exercise, but you have to take extra precautions in the summer," says Dr. Phil Keith, a board-certified dermatologist with Dermatology Consultants. "Develop a good skin protection plan and stick to it every time you go outside. Also, remember to check your own skin often, and schedule an annual skin screening with your dermatologist."
At Dermatology Consultants, our board-certified dermatologists want to make sure your skin stays safe from harm this summer.  Here are some sun safety tips from our doctors to incorporate into your routine as you put on those miles outside:
Try protective clothing. There are many new kinds of clothing designed specifically to deflect and protect against the sun. Coolibar is one clothing brand that offers excellent, comfortable protection and has some great options for runners. Remember to wear a hat and sunglasses to protect your scalp and your eyes as well.
Time it right. Avoid running between 11 am and 2 pm when the sun's rays are the strongest and present the biggest threat to your skin. According to the American Academy of Dermatology, this is when UV rays are at their highest, so try to schedule your runs for the morning or later in the day if you can.
Watch your skin. Early detection is critical in successfully treating skin cancer. Keep an eye on your skin for any new moles, spots, or growths, or for changes in existing ones. Get to know the ABCDEs of melanoma and monitor yourself regularly. If you notice any changes, contact your dermatologist immediately.
Schedule your skin screening. Professional screening by a dermatologist every year is the best way to ensure your entire body's skin is monitored for any potentially cancerous changes. Skin screenings are simple, and let your dermatologist get a baseline so no new growths or changes will go unnoticed.
Re-apply sunscreen every 2 hours. Your number one defense against the dangers of the sun's rays is sunscreen. Any time you go outside – running or not – you should apply sunscreen to all exposed skin, including your face.
Don't forget your lips!  Make sure your lip balm has an SPF of 30+.
Broad-spectrum sunscreens with an SPF rating of 30 or higher are best for running. Be sure you're applying it the right way and re-applying it when you need to.
Do you need to make an appointment for your annual skin screening? Request an appointment with one of the board-certified dermatologists at Dermatology Consultants here.