Using laser energy, the CO2RE effectively targets both superficial and deeper layers of your skin for a smoother, more even complexion.CO2RE can be used to rejuvenateand resurface the skin in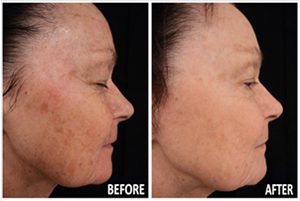 as little as one treatment, however some patients may need more treatments. TheCO2RE laser is ideal for scar revision, skin resurfacing, correcting uneven skin tone and reducing the signs of aging. The targeted energy of the laser also stimulates collagen formation for continued improvement and younger-looking skin.
Recovery time is typically about 7–10 days. Improvements in your skin can continue to be seen for up to 3 months after the treatment as new collagen forms. Schedule a consultation with one of our Board-certified dermatologists to discuss whether the CO2RE laser is the right treatment to meet your goals.
Listen to Dr. Joe Shaffer talk about the new laser on MyTalk107!