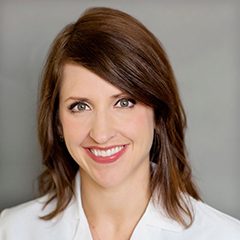 Dermatology Consultants welcomes Dr. Lydia Turnbull to our practice! Dr. Turnbull is now accepting appointments at our Woodbury office.  Dr. Turnbull practices general, cosmetic, pediatric and surgical dermatology. She is looking forward getting to know patients in the community and addressing their dermatologic concerns.
"Skin disease is an illness that everyone can see and it really affects a patient's quality of life. I believe in tailoring a treatment plan that is compatible with the patient's needs and beliefs,"says Dr. Turnbull. "Dermatology was an easy choice for me, it encompasses all the aspects of medicine I love: caring for patients, preventative care and cancer screening, dealing with complex medical illnesses, pediatrics, geriatrics and performing my own surgical procedures."
Dr. Turnbull attended the University of Minnesota Medical School, where she was a member of the Alpha Omega Alpha Honor Medical Society. From there she completed her internship at Hennepin County Medical Center,  and her residency at the University of Wisconsin-Madison where she was Chief Resident from 2014-2015. Prior to medical school Dr. Turnbull graduated Summa cum laude with distinction from the University of Minnesota with a B.S. in Biochemistry and a secondary B.S. in Genetics, Cell Biology and Development.
Dr. Turnbull is a member of the American Academy of Dermatology, the International Society of Dermatology, the Women's Dermatologic Society and an honorary member of the Dermatology Foundation.