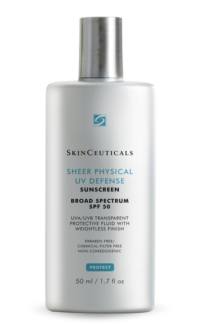 Sunscreen can feel thick, sticky and even oily. You might be concerned about putting something so heavy on your face. The good news is there are plenty of sunscreens made with facial skin in mind – sunscreens that moisturize, that won't block pores or won't aggravate existing conditions like acne.
It's extremely important that you remember to put sunscreen on your face when you're heading outdoors. Any time your face is exposed to the sun, sunscreen should be applied. Most facial sunscreen products are rated at least SPF 30. If you have sensitive skin or if you're using other skin products that make your skin prone to sunburn, you may need a higher UV rating.
At Dermatology Consultants we sell a number of facial sunscreens. They include:
SkinCeuticals Sheer Physical UV Defense. This is a sheer, broad spectrum sunscreen with a weightless matte finish that won't weigh your skin down or interfere with makeup. It's appropriate for all skin types, including sensitive skin. It's rated SPF 50.
SkinCeuticals Physical Fusion UV Defense. Another great sunscreen from SkinCeuticals, Physical Fusion UV Defense is a weightless full-body sunscreen that works well for the face, too. It's lightly tinted to even complexion and enhance skin's glow. As with other SkinCeuticals sunscreens, it's appropriate for all skin types. It's water resistant for up to 40 minutes and rated SPF 50.
If you're not sure which sunscreen is right for your unique skin, ask your dermatologist or our estheticians, and stop by our offices to stock up on your sunscreen of choice!