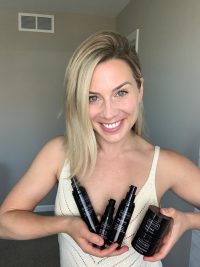 Mrs. Minnesota America 2018 Allison Crandall loves the Revision Skincare products she gets from Dermatology Consultants! Revision products have helped her through this time of shelter-in-place when she has been unable to get other cosmetic treatments in office.
Revision Skincare products feature proprietary formulas derived from the highest quality ingredients and backed by passionate and expert scientific research to ensure maximum effectiveness. Revision's goal with their products is to achieve youthful-looking skin with no threat to your skin's long-term health. Their unique approach to formulation is a leader in better treatment methods for skincare. Popular Revision products include Nectifirm Advanced, DEJ Eye Cream, Vitamin C Lotion 30% and more.
Learn about Allison's favorite products:
These products and much more are available at all four Dermatology Consultants locations, now with curbside pickup for safety and convenience! Maintaining social distancing while ensuring you have all you need for the health of your skin and looking your best can be tough. Just call the office nearest you to place an order for curbside product pickup. Curbside delivery will include a gift with purchase for every order while supplies last. Learn more about the curbside pickup process.
And good news! Our estheticians are back in all four locations, so you can once again enjoy facial and esthetic treatments that keep your skin in optimal condition, including facial peels, microneedling and more. Learn about our esthetician services and our estheticians.
Esthetician services and curbside pickup are available at:
Eagan Office
1215 Town Centre Drive
Suite 200
Eagan, MN 55123
(651) 251-3300
St. Paul Office
280 Snelling Ave N.
St Paul, MN 55104
(651) 645-3628
Vadnais Heights Office
Willow Lake Office Park
Suite 240
3555 Willow Lake Blvd.
Vadnais Heights, MN 55110
(651) 770-0110
Woodbury Office
587 Bielenberg Drive
Suite 200
Woodbury, MN 55125
(651) 578-2700