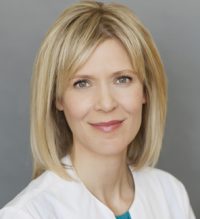 These days you may not be able to schedule all your favorite cosmetic treatments, but there are ways to achieve the results you've come to know and love with top-rated, Dermatologist-approved, skincare products you can use at home.
We asked Erin Meads, our esthetician at our Woodbury office, some questions about skincare products that can help while we wait for treatments like lip fillers and laser resurfacing.  Read on for her recommendations to help keep your skin healthy and glowing!
Q: Which at-home products can replicate results like Botox?
Erin: Products with retinol like SkinMedica retinols and Revision D·E·J Night face cream with retinol can produce results similar to the smoothing effects of Botox. Other products containing peptides and growth factors can also mimic these results, including SkinMedica TNS Essential Serum, Defenage 8 in 1 BioSerum and Revision Revox 7.
Q: What products can be used to keep skin plump when fillers are not available?
Erin: Hyaluronic Acid plumps and hydrates skin immediately, as well as provides long-term benefits.My favorite products to help keep skin hydrated and radiant are SkinMedica HA5, SkinMedica HAI and Revision Hydrating Serum.
Q: What are your favorite skincare products to help tone and tighten the skin? 
Erin: I like Revision Soothing Facial Toner, which is safe for all skin types, and Skinceuticals LHA Toner, which is best for combination or oily skin.
Q: What at-home skincare products mimic an in-office chemical peel?
Erin: For a peel-like effect I love Skinceuticals Glycolic 10 Renew which is recommended for overnight use.
Q: What at-home skincare products cans can help exfoliate skin similar to dermablading? 
Erin: We carry some great exfoliators, including Skinceuticals Glycolic 10 Renew overnight, Skinceuticals Micro-Exfoliating Scrub and Revision Finishing Touch Microdermabrasion Scrub.
Q: What products would you recommend for an easy at-home facial?
Erin: For an at-home facial experience I suggest Revision's Papaya Enzyme Cleanser and Soothing Facial Toner, Finishing Touch Microdermabrasion Scrub, Black Mask and D·E·J Night face cream.
Q: What kinds of makeup give the "no makeup" makeup look?
Erin: For a natural "no makeup" makeup look try Colorescience Even Up SPF 50, Colorescience Sunforgetable Brush-on Shield SPF 50, clear lip gloss with SPF and Revision Intellishade SPF 45. These products will keep you looking natural and have the added benefit of providing sun protection.
Q: What are your favorite sunscreen products?
Erin: Sunscreen product recommendations vary based on skin type. If you have acne prone skin try EltaMD UV Clear and for oily prone skin I recommend EltaMD UV Shield and Revision Intellishade Matte. If you have dry skin I recommend EltaMD UV Facial and Revision Intellishade Original. The best sunscreen products for combination skin are EltaMD UV Daily and Revision Intellishade Original, another great lightweight sunscreen option is Skinceuticals Physical Fusion.
If you're looking for a physical sunscreen my favorites are EltaMD UV Pure, Revision TruPhysical or SkinMedica Essential Defense. We offer sunscreen options for every skin type.
These products and more* are available in our offices and we offer curbside pickup, or you can order conveniently online for home shipment!
*Revision Revox 7 is only available online