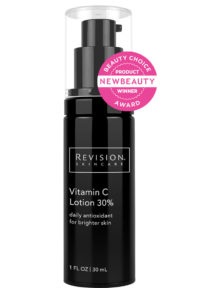 Our August Product Special is 20% off Revision Vitamin C Lotion. This daily antioxidant lotion has a highly concentrated, advanced Vitamin C formula to leave your skin looking healthy and renewed.
Some of the benefits of using Revision Vitamin C Lotion include:
Brighter skin
Reduces appearance of fine lines and wrinkles
Moisturizes and conditions skin
Provides an arsenal of antioxidants including Vitamin E and Coenzyme Q10
People of all skin types, including sensitive skin, can benefit from Revision Vitamin C Lotion. The Vitamin C is formulated to release over time for more gentle delivery.
To use, simply clean your skin first, and then apply one or two pumps worth of lotion evenly onto your face, avoiding your eye area. Let the lotion absorb, and then apply your favorite moisturizer and sunscreen.
Stop by our offices throughout August to take advantage of this great special!