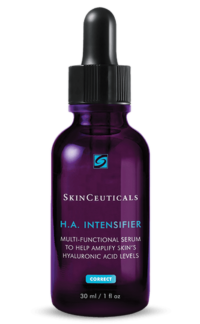 During the month of September, get 20% off SkinCeuticals Hyaluronic Acid (H.A.) Intensifier when purchased in our offices!
SkinCeuticals H.A. Intensifier serum enhances your natural hyaluronic acid levels to provide greater firmness, smoothness and plumpness to your skin. Its unique formula contains a high concentration of pure hyaluronic acid, proxylane™ and botanical extracts of licorice root and purple rice to provide surface hydration. The serum can be used as part of an in-home skin care regimen following dermal filler treatment. For use as part of your regular daily skin care regimen, consult our estheticians or dermatologists.
This powerful serum increases your natural hyaluronic acid levels by 30%. It reduces the appearance of crow's feet, parenthesis wrinkles around the mouth or laugh lines and marionette lines from the corners of your mouth to your chin for firmer and smoother skin. The long-lasting hydration delivered by SkinCeuticals H.A. Intensifier visibly improves your skin's texture, as the serum-gel creates a smooth canvas on your skin.
SkinCeuticals H.A. Intensifier is paraben-free and dye-free and may be used on all skin types.