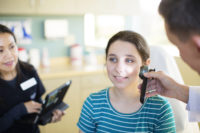 Going to the dermatologist for an annual checkup is just like going to your physician's office. It's important for your overall wellbeing and can detect issues you wouldn't be able to notice by yourself. While you may not look at it as the most fun way to spend part of your day, proactively taking care of your skin could save you a lot of hassle and money. And really, it won't take too long.
A skin checkup involves examining the skin from head to toe. We look at your skin through a tool called a dermatoscope. It may sound fancy, but it's really just a magnifying glass that makes it easier to look at skin spots and moles. Subtle changes to spots and moles may not look like much, but could signal cancerous or precancerous developments. It's hard to detect these changes without the tools we have handy in our offices, so even if nothing seems out of the ordinary, that may not be the case.
During your check up, dermatologists may comb through your hair, look at your fingernails or check areas of your body that aren't exposed to the sun. Everything is fair game, but it's with your best interests at heart. You never know where cancers or other issues could turn up, so it's best to be thorough.
You can schedule an appointment by calling 651-209-1600 or by visiting our website. You can never be too careful when it comes to taking care of your skin. If it's been a while since a professional last gave you an exam, don't hesitate to schedule an appointment with one of our dermatologists.