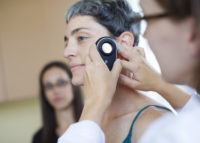 As part of Skin Cancer Awareness Month in May Dermatology Consultants is pleased to offer free skin cancer screenings by our Board-certified Dermatologists on Saturday, May 4th, 2018 from 8-noon at our Woodbury and St. Paul offices.
Call 651-209- 1616 or email us to schedule a screening appointment. 
Early detection is important to stop skin cancer from worsening and for best treatment outcome. Our doctors will look for signs of skin cancer or pre-cancerous growths and recommend follow-ups and treatment options if any are found.