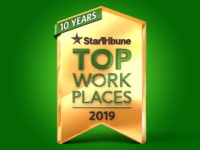 Dermatology Consultants has been recognized as a national standard Top Workplace by the StarTribune in 2019. Dermatology Consultants was one of 143 companies that scored high enough to meet the program's national benchmark as a Top Workplace. Survey results were compiled based on employee responses. Among the many hundreds of employers that participated in this rigorous program, it is an honor to be placed in this category.
"This recognition is meaningful as it is based on feedback from our own staff and physicians. We strive to be the type of practice where people feel a sense of pride and purpose each day. Being named a Top Workplace really reflects the work we've done not only in the care of our patients, but in supporting our most important assets – our people – as well," said Bill Kenney, CEO of Dermatology Consultants.
Produced by the same team that compiles the 28-year-old Star Tribune 100 report of the best-performing public companies in Minnesota, Top Workplaces recognizes the most progressive companies in Minnesota based on employee opinions measuring engagement, organizational health and satisfaction.  Over 2,000 organizations were invited to participate in the survey, and over 140,000 employees shared their views. We are excited to be included in the list of Top Workplaces, a strong reflection of the opinion of our most important asset – our own employees.