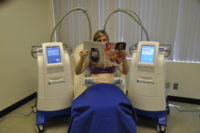 We're pleased to offer the CoolSculpting Take it Further Instant Savings Program for Brilliant Distinctions members. This limited-time offer lets you save up to $1,000 on a "Love It" treatment package (8 treatment cycles or more). It's the perfect time to get started on a permanent solution to stubborn fat and take your self-confidence further!
Learn more about the program and download your rebate here.
If you don't belong to the Brilliant Distinctions program, you can sign up free online.
This promotion runs through June 30th and rebates must be redeemed before July 31st. It cannot be combined with other CoolSculpting offers. View all terms and conditions here.