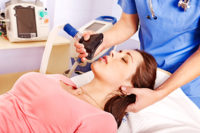 We're pleased to offer the Pro-Nox Nitrous Oxide System for pain relief and anxiety during procedures in our offices.
Pro-Nox puts you in charge of pain relief and is useful for many dermatology procedures. It's also an excellent option for children during general dermatology procedures.
You wear a mask that delivers a safe, effective mixture of gases to your system. With a click of a button you can increase the dose when you feel anxious or pain, and the effect can be felt in seconds. After the procedure, the gases exit your system in minutes, so typically there is no post-procedure lethargy or other symptoms.
How does it work?
Pro-Nox delivers a 50% oxygen, 50% nitrous oxide gas mixture via a comfortable mask. You hold a button that allows you to increase the release of gas into the mask, and therefore into your system. It is non-addictive and non-invasive. Should you choose to use the Pro-Nox system during your procedure our staff will walk you through the process and what to expect during and after treatment.
If you are interested in Pro-Nox during your next procedure, let us know when you make your appointment. You can request appointments online or call us at 651-209-1600.