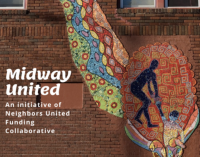 NEWS RELEASE – Physicians from Dermatology Consultants, PA  announced they have pledged a $10,000 donation to Midway United, an initiative of the Neighbors United Funding Collaborative. The goal of the Midway United fund is to sustain the vitality and identity of the Union Park and Hamline Midway neighborhoods.  Midway United's strategy is to create opportunities for local residents, small businesses and organizations to implement exciting and positive projects through grant funds and organizations which will benefit the local neighborhoods of Union Park and Hamline Midway.
"As members of the Midway community of St. Paul for more than 70 years, it's important that we show our support to help rebuild  the community for both residents and small businesses," said Bill Kenney, CEO of Dermatology Consultants. "The health and wellbeing of our patients is our highest priority, and as local healthcare providers we will do all we can to maintain and improve the lives of the people we serve." Kenney added that doctors within the practice were making individual donations to the GiveMN.org page of the organization to reach the total projected total of $10,000.
The organization to date has raised more than $700,000 to help small businesses and nonprofits in Union Park and Midway Hamline neighborhoods rebuild their storefronts after damages cause by civil unrest in early June of this year.
About Dermatology Consultants, P.A. – Dermatology Consultants, P.A. was founded in 1949 as one of the first practices devoted to dermatologic medicine in the Twin Cities. Today our 20 board-certified dermatologists provide  a full spectrum of services including general skin care for adults and children, skin cancer surgery and reconstruction, and cosmetic dermatology. Dermatology Consultants has four Twin Cities' locations in Saint Paul, Woodbury, Vadnais Heights and Eagan. For more information, please visit us at DermatologyConsultants.com.