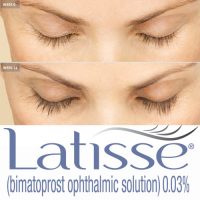 Are your lashes shorter than you'd like, or lack that special "luster"? Latisse lash treatment  helps lashes grow longer and fuller. In this post,  Dr. Katie Barlow explains how Latisse works not only for her own patients, but for her lashes as well!
Q: What is Latisse? How does it work?
Dr. Barlow: Latisse is a topical solution applied to the upper lash line that works by prolonging the growth phase of the eyelashes and increasing the number of active lash follicles. This results in longer and more numerous lashes.
Q: Who is a good candidate for using Latisse?
Dr. Barlow: Almost anyone can use Latisse. If you have any eye problems like glaucoma or have had recent eye surgery, you should check with your doctor first. Also, women or are pregnant or nursing should avoid its use.
Q: What can I expect from using it? When can I see results?
Dr. Barlow: It will take 2-3 months to see the full benefits of the Latisse, and most notice longer and thicker lashes with regular use.
Q: How often do I use it? 
Dr. Barlow: Latisse should be applied nightly to the upper eyelid along the eyelash line (where you normally put eyeliner) at bedtime, after washing your face and removing makeup and contact lenses.
Q: Are there any side effects I should worry about?
Dr. Barlow: On rare occasions, some may be allergic to an ingredient in Latisse, resulting in a red, itchy rash. More commonly, some may notice a slightly reddish hue or darkening of the skin where Latisse is applied. This is harmless and does not result in a rash or itch.
Q: What happens if I stop using it? 
Dr. Barlow: The lashes will slowly return to their normal growth pattern and length.
Q: Is this a prescription treatment? How much will I need? 
Dr. Barlow: This is a prescription medication.A 5 ML bottle lasts about 6-8 weeks.
Q: Can I wear mascara on top of it? 
Dr. Barlow: Absolutely!
Q: Do you use it yourself? How long have you been using it and what are your results? 
Dr. Barlow: I've been using it for almost 11 years (I took breaks for pregnancy and nursing) and have had fantastic results.
Q: Do I have to make an in-person appointment to get Latisse? Can I do a video visit?
Dr. Barlow: Existing patients may not need an appointment.  If there is a history of eye problems, contact allergy or recent eye surgery please make an appointment in person or virtually.  If you have no history, we can often do a simple intake form and you can just pick it up with curbside delivery. If you're interested in trying Latisse, it's best to call us at 651-209-1600 or ask about Latisse at your next regular dermatology visit!