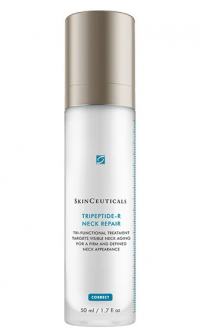 Now available for purchase in all our offices.
SkinCeuticals Tripeptide-R Neck Repair is a corrective treatment specially formulated for the neck. This triple-acting treatment addresses early to advanced visible signs of neck aging by reducing the appearance of neck lines and crepiness. Tripeptide-R Neck Repair combines corrective technology with a hydrating delivery system to fortify skin and support its resistance to aging. It is formulated with slow-release retinol enhanced with a tripeptide concentrate and glaucine complex for clinically proven results.
Tripeptide-R Neck Repair is designed for fragile neck skin and is appropriate for daily use. It also complements professional/in-office treatments. This product contains no alcohol, paraben or dye.
Recommended treatment plan:
Our doctors advise using this product beginning every other night for 1 week, then increasing to nightly, then to as often as 2x/day with SPF, depending on how your skin tolerates it. You can alternate nights with Triple Lipid 2:4:2 for improved skin barrier repair and hydration.