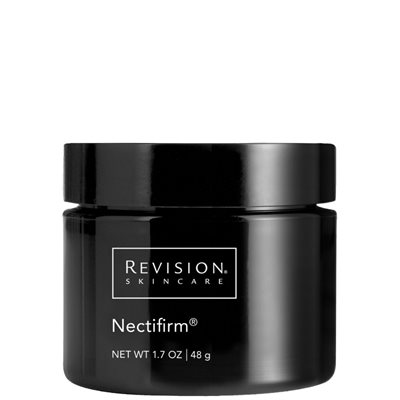 If you're struggling with crepey skin on your neck – rough or loose skin – you may wish your neck looked firmer and more youthful. There are products and treatments available to help tighten and lift sagging skin on your neck, one of which is Nectifirm®, part of the Revision Skincare line of products.
Nectifirm® uses plant extracts like algae and bamboo packed with antioxidants and their own unique biotechnological blends to create a younger-looking neck. With Nectifirm® you'll notice fewer fine lines and wrinkles, and your skin will look firmer and more lifted. People with all skin types can benefit.
To use, twice daily apply a small amount of the product first to your décolletage and then work your way up your neck to your jawline. We recommend following it with a sunscreen of SPF 30 or greater. Remember, protecting your skin from the sun not only lessens the risk of skin cancer, but it lessens the damage UV rays do to your skin. UV damage can result in visibly aging skin.
You may be wondering why you need a special anti-aging cream for your neck when you already have one for your face. The skin on your neck ages differently from the skin on your face and requires its own unique treatment to hydrate and tone it, and make it look younger and revitalized. Besides uniquely formulated products like Nectifirm® there is also Ultherapy, an FDA-cleared, non-invasive treatment to lift and tone skin on your neck and face.
Make an appointment with one of our estheticians to have your neck evaluated for a treatment program that may include Nectifirm® or other products and procedures that can help your skin looking younger and firmer. Call 651-209-1600 or request an appointment online.