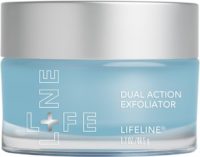 Exfoliation – removing dead skin cells – is your secret weapon to brighter, healthier skin. It's something you can do at home as part of your regular skin care regimen. You've probably seen lots of exfoliating products on store shelves, and maybe you've been told by a dermatologist or esthetician that you need to incorporate regular exfoliation into your skin care routine. Here's why exfoliation is important.
Exfoliation helps prevent acne break-outs. Acne-prone skin is often clogged with dead skin cells, which cause follicles to make more oil, which in turn produces blackheads and pimples. Regular exfoliation helps clear the dead skin cells from pores and follicles.
Exfoliation improves your skin's texture. By sloughing off the dead skin cells that cling to the surface you're speeding up the skin's renewal process, encouraging growth of new, healthy cells. Your skin's texture may look smoother and brighter as a result.
For the same reason exfoliation improves texture it can reduce fine lines and wrinkles as well, making your skin look more supple and younger.
Exfoliation reduces enlarged pores. Large pores can quickly fill with debris. Exfoliation cleanses them and allows them to shrink as they are emptied. They will look less visible.
"Glowing skin" is a great goal, but it can't be achieved if your face is cluttered with dead skin. Exfoliating away the dead skin and other debris that is stuck to your skin truly can give your skin's tone a vibrant, fresh and glowing look.
Exfoliating helps you make the most of your other skin care and beauty products, because they'll absorb better after you've sloughed off dead skin that blocks absorption.
In August we're offering 20% off Lifeline Dual Action Exfoliator. Glycolic acid and microcrystals go to work to remove dead skin and promote skin renewal for a more polished, healthy look with fewer fine lines, wrinkles, blemishes or scars. Additionally, Vitamin E helps protect your skin against environmental damage and soothes inflammation. Stop by our offices throughout the month of August to stock up and start exfoliating regularly to keep your skin healthy!