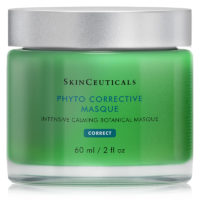 We're excited to offer discounts on two fantastic products during the month of March. Stop by our offices for 20% off SkinCeuticals Epidermal Repair cream and SkinCeuticals Phyto Corrective Masque.
SkinCeuticals Epidermal Repair is a therapeutic moisturizing cream that protects and soothes compromised/damaged skin. It is specifically formulated to support your skin's natural barrier. It accelerates cell renewal and restoration of the barrier, soothes and helps reduce signs of inflammation and is ideal for post-procedure use.
Its key ingredients are Beta Glucan, which promotes renewal of the skin's upper layers; extract of centella asiatica, which protects skin from environmental stress; and a combination of amino acid and white water lily which helps soothe compromised skin and reduce discomfort. It can be applied once daily or as needed, especially during the critical healing period post-procedure. Only a small amount is necessary for each application to affected areas.
SkinCeuticals Phyto Corrective Masque is an intensive calming facial mask that cools on contact, comforts sensitive skin and restores natural smoothness and radiance. This versatile botanical mask can be used any time your skin reacts to activity or environment. For example, it's great for post-workout, sun exposure or after a hot bath. It's also effective post-travel, after exposure to chlorine or salt water from swimming and to treat windburn from winter activities. It is also excellent for use post-procedure, such as after laser treatments, photodynamic therapy, extracts, intense pulsed light therapy and others.
Its unique blend of cucumber, thyme and olive extracts provide optimum comfort by soothing skin. It also contains a calming dipeptide that reduces the skin's perception of heat sensitivity. Additionally, it contains hyaluronic acid, the body's natural, powerful hydrator. The mask can be applied as a leave-on, rinse-off mask (leave on for 15 minutes and rinse with cool water) or as an overnight treatment. To use, apply a generous amount to the face, chest or neck but be careful to avoid the eye and lip areas.
Stop by our offices soon to stock up on these excellent SkinCeuticals products at a great price!