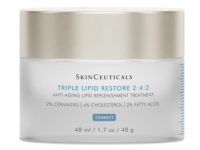 Throughout the month of November you'll receive 20% off your purchase of SkinCeuticals Triple Lipid Restore 2:4:2. This anti-aging lipid replenishing treatment is a powerful way to combat visible signs of aging by boosting the lipids skin naturally loses as we age. Ceramides, cholesterol and fatty acids all are susceptible to depletion in aging skin, which harms skin's natural protective layer. The more we lose this layer the faster signs of aging appear, as our skin struggles to self-repair.
Triple Lipid Restore 2:4:2 anti-aging cream is formulated with 2% pure ceramides, 4% natural cholesterol and 2% fatty acids. The cream helps restore skin's external barrier and support self-repair, while also providing nourishment for your skin. Triple Lipid Restore has been clinically proven to improve visible appearance of skin's smoothness, pores, fullness, texture and overall radiance.
Because Triple Lipid Restore 2:4:2 also provides 24 hour moisture, it's also ideal for those with dry skin. Unlike some 24 hour formulas it is lightweight and absorbs quickly.
Stop by our offices to take advantage of this special!