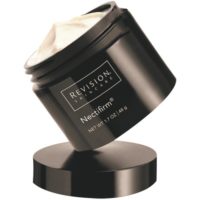 We're happy to announce our November Product Special: receive 20% off Revision Nectifirm! Revision Nectifirm is proven technology for firming the appearance of your neck. Because the skin on your neck ages differently than the skin on your face, facial moisturizer won't do much to improve your neck's appearance or prevent the appearance of aging skin in the future.
Plant extracts, antioxidants and special biotechnological blends come together in the perfect recipe in this best-seller. These blends include bamboo, English pea and glucosamine, which work together to hydrate and tone skin. With Nectifirm skin appears lifted and firm, the appearance of rough and crepey skin is reduced and the look of fine lines and wrinkles is lessened.
A dime-sized portion worked gently up from the décolletage to the jawline twice daily is all it takes. Follow Nectifirm with a broad-spectrum sunscreen of at least SPF 30 (SPF 50 is ideal) to keep the sun from damaging your neck's skin. Nectifirm can benefit all skin types.
Stop by our offices in November to stock up at this great discount!