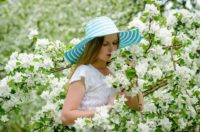 Did you know that each season demands its own unique skin care regimen? Changes in weather/environment as we shift from season to season can have a serious effect on our skin, so we need to adjust certain aspects of our daily care accordingly. Of course, there are aspects of your regular skin care that may stay the same from season to season, such as anti-aging or repairing products or prescription topical medicines. When planning your optimal skin care regimen, be sure to consult your dermatologist or esthetician.
One major seasonal change takes place between dry, harsh winter and milder spring. There are some general rules of thumb we can all follow when transitioning our skin care from winter to spring. Top tips include:
Moisturizing is still extremely important. In fact, spring may be one of the most important seasons for moisturizing, as our skin recovers from winter's dryness. Choose a moisturizer that's not only hydrating, but also acts as a skin protectant. A product that traps moisture in the skin is ideal, and some ingredients to watch for are vitamin E and healthy oils like sunflower oil. Alpha hydroxy and beta hydroxy acids help replenish moisture that winter has sapped away.
Exfoliating is a good idea to slough off dead skin that accumulates during winter, but don't choose a product that's too rough on your skin. Look for gentler exfoliating ingredients like brown sugar, our ask our estheticians for top-notch exfoliators. You should not have to exfoliate more than once or twice a week, tops, unless otherwise directed.
Cleansing remains an important part of any regimen year-round. Choose a gentle cleanser that you can use twice a day (morning and night) to remove oils, dirt and debris without irritating your skin.
Sunscreen is still vital! This should also be part of your regimen for all seasons. Even though the sun may not feel as strong as it does in summer, it can still damage your skin and cause skin cancer. We recommend a broad spectrum facial sunscreen of at least SPF 30, and a body sunscreen of SPF 30 or higher on any exposed skin such as shoulders, arms, hands or legs. And don't forget your lips – they need protection too! Try SPF-rated lip balms or makeup.