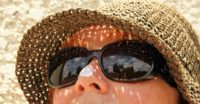 Jeremy Cook, MD is a Board-certified Dermatologist with Dermatology Consultants. He sees patients in our Woodbury office and online. Recently we posed some of our patients' most frequent questions.
How can I protect my skin from the effects of the sun?
Sun exposure causes the generation of free radicals in the skin, which in turn creates DNA damage and other harmful effects.  Sunscreen is the most obvious and important way to protect your skin from the sun.  I prefer an SPF 50 physical blocker – zinc oxide or titanium dioxide – which in newer formulations are much more cosmetically acceptable than in the past and often available in tinted variations.  
For those who dislike sunscreen, lightweight sun-protective clothing is available from Minnesota-based company Coolibar.  Vitamins C and E have antioxidant effects when applied to the skin and complement appropriate sun-protective practices by reducing any damage that does occur.  My favorites are Neocutis Journe and SkinCeuticals CE Ferulic.  Niacinamide has similar properties and can be found in products such as CeraVe PM moisturizer.
I've been in the sun a lot throughout the years and I'm worried about skin cancer. What should I do?
Unfortunately, we do not yet have clear guidelines on who does and does not need to be screened for skin cancer.  That being said, it is my opinion that patients who have a significant history of sun exposure and/or tanning-bed use, numerous moles, or a family history of skin cancer can benefit from a baseline skin cancer screening with a board-certified dermatologist.  This exam is a great opportunity to set your mind at ease, better understand the warning signs of skin cancer, and get a personalized recommendation for what frequency you should have these exams in the future.  If you aren't sure whether or not this is necessary for you, simply ask your primary physician what they think. Also, always see a dermatologist for any mole or lesion that is bleeding, itching, growing, multi-colored, changing in any way or simply worrisome.
Beyond getting screened for skin cancer, it's never too late to start good sun protection.  Damage from the past may be irreversible but ongoing sun exposure reduces your immune system's ability to keep these issues in check and ultimately greatly increases your risk of having a problem
What are some of the newest treatments or technologies available to fight the signs of aging?
Aesthetics is an area of medicine that is constantly evolving.  While new treatments and technologies are continually changing, I think the following are worth reviewing.  Microneedling is a procedure that has been around for several years but is rapidly growing in popularity.  With minimal downtime and discomfort compared to more expensive laser treatments, this treatment can improve fine lines, wrinkles, scars, and many other signs of aging.
The dreaded "double chin" is another sign of aging that most hope to avoid.  Previously, liposuction was the best option, but now this problem can be treated non-invasively with an injectable product called Kybella or a procedure called Coolsculpting — which uses a new handpiece developed for this area.  Finally, for those looking to rejuvenate the wrinkles around their mouth and loss of lip volume, a new injectable filler called Volbella is available.
Do you have a question for Dr. Cook? Post it in the comments section below! Learn more about Dr. Jeremy Cook here or find out about starting an online visit here.