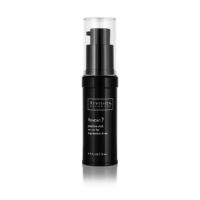 For the months of August & September – that's right, two months to get your hands on our Product Special at a great discount price – we're offering 20% off purchases of Revision Revox 7. This powerhouse serum has been called "Botox in a bottle" for its ability to reduce the appearance of expression lines. What's especially great about it is it works wonderfully with in-office treatments like Botox, too! Be sure to discuss with your dermatologist how Revox 7 can work with your wrinkle-reducing treatments.
It's a peptide-rich, oil-free serum that reduces the appearance of wrinkles and softens the look of expression lines around the eyes, forehead and mouth. It can also be used on your neck.
Incorporating Revox 7 into your skin care regimen is easy. Just apply to clean skin before moisturizer twice daily (morning and evening), waiting one minute before applying moisturizer. That's it!
Stop by our offices to stock up on Revox 7 before the end of September.