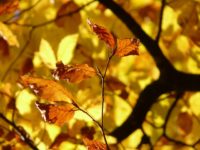 Autumn will be here before you know it, but just because summer's ending doesn't mean the sun's risks to your skin are ending, too. You can sunburn year-round, and skin's exposure to the sun during any season can increase your risk of skin cancer. Autumn sun is just as dangerous as summer sun, even if doesn't feel as strong!
There are some simple things you can do to reduce your exposure to the sun during the fall season. First and foremost, wear sunscreen and sun protective clothing. Any part of your skin that's exposed, like your face, neck and back of your hands, should have the same sunscreen applied that you use during the summer (preferably SPF 30+, broad spectrum, water resistant to resist sweat, and applied correctly). Your scalp should be protected by sunscreen or a hat. And the rest of your body will benefit from thicker-woven fabrics like denim or heavy cotton, where the sun's rays are less likely to penetrate the clothing fibers and reach your skin. Better yet, invest in clothing designed to block the sun's rays, such as clothes by Coolibar. And if you're going to be outdoors for extended periods apply sunscreen and allow to dry before dressing, especially if you're wearing light clothes.
Additionally:
Seek the shade whenever possible, especially between the hours of 10am and 4pm.
Wear sunglasses – your eyes need protection, too, as do your sensitive eyelids!
Continue to examine your skin monthly for changes in moles or new moles, discolorations and other concerns, and see your dermatologist if you notice anything unusual or new.
Get your yearly professional skin screening from your dermatologist.