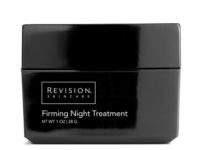 During the month of October we're offering 20% off Revision Skincare's Firming Night Treatment, which can be purchased in our offices.
This hydrating night cream is perfect for dry, sensitive or mature skin. Full of peptides, Firming Night Treatment goes to work against wrinkles with intense moisturizing while you sleep. Firming Night Treatment's two peptides, Palmitoyl Tripeptide-5 and Palmitoyl Tetrapeptide-7, are clinically proven to reduce the appearance of fine lines and wrinkles.
It also contains Sodium Hyaluronate to bind the moisture to your skin, as well as shea butter and other botanical extracts like extracts of sandalwood and chamomile to soothe skin and combat dryness.
Firming Night Treatment is easy to incorporate into your skin care regimen. Clean your face, apply your other products and finish with Firming Night Treatment. Firming Night Treatment re-hydrates and replenishes skin, giving it a fresh glow and erasing the dull appearance that comes with dry skin.
Stop by our offices and stock up during our month-long special!