Revision Skincare's BodiFirm is a revolutionary topical sculpting product. It is a body contouring lotion that is available for purchase in our offices but does not require a prescription.
BodiFirm:
Helps tone and sculpt your skin's appearance by firming, tightening and lifting
Improves the appearance of thin and crepey skin
Reduces the appearance of sun damage and improves overall skin health
Hydrates and helps support the skin's natural moisture barrier
Encourages long-term skin health by supporting the skin's microbiome
Is perfect for use before and after procedures (once skin has healed) to complement results
In a 12-week clinical study using BodiFirm, 90% of subjects showed improved skin elasticity, while 83% showed improvement in sagging skin and another 83% in sun damaged skin, and 80% showed improvement in visible firmness.
Learn more: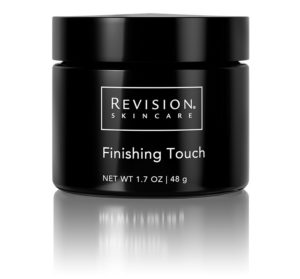 Revision Skincare's Finishing Touch is also available to purchase in our offices now. Finishing Touch is a facial exfoliation scrub that removes surface skin cells that are dead, dull or dehydrated from the skin with a blend of Polynesian Volcanic Black Sand and ultra-fine Pumice. The result is an immediate smooth and soft appearance.
Additionally, Finishing Touch contains Freshwater Silt that hydrates, helps absorb impurities and nourishes skin. Finishing Touch brightens your skin and leaves it feeling moist and clean after rinsing, unlike most scrubs.
Call us or stop by one of our offices to purchase BodiFirm or Finishing Touch today!