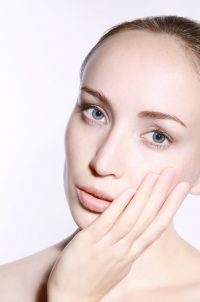 If your skin is showing visible signs of aging, or if you want to put into practice an anti-aging regimen to prevent signs, Dr. Tanya Sale has three vital anti-aging tips to help.
Avoid Sun Damage
The #1 weapon in your anti-aging arsenal is sunscreen. You should apply it on exposed skin and your face when you go outside every day of the year, regardless of weather. Even if it's cloudy, the sun's UV rays can still reach you. Sun damage can cause wrinkles and dark spots associated with aging skin, as well as risk of skin cancer.
Choose a broad spectrum sunscreen with at least SPF 30. There are sunscreens that also moisturize, making them a great part of your daily skin health routine, too. Find one you like enough that you're willing to put it on daily.
Use a Retinoid
You can erase sun damage, fight wrinkles and fine lines and build collagen – which helps regenerate your skin – by using skin care products that contain the ingredient retinoid or a topical retinoid medication. There is an over the counter retinoid called Differin, and you can also get a prescription for other products from your dermatologist. If you're not sure which anti-aging product with retinoid is best for your unique skin type or any conditions you may have, consult with one of our dermatologists or estheticians.
Improve Your Skin with Antioxidants
Antioxidants fight free radicals, which damage cells in our body – including skin cells. This can cause a number of visible signs of aging. Though expensive, antioxidant serums like SkinCeuticals C E Ferulic work directly on your skin to clear toxins and promote rejuvenation. The result is brighter, healthier skin and is a key component for anti-aging.
You can complement an antioxidant skin product with a diet rich in antioxidant foods like broccoli, spinach, carrots and potatoes. This is a handy list of healthy foods to try, but before altering your diet always discuss changes with your physician.
Finally, hydrate, hydrate, hydrate! A lack of water can create chronic dry skin and cause your skin to lose its healthy volume. Make sure you're getting the amount of water recommended by your doctor every day to make the most of your anti-aging efforts.
Learn more from Dr. Sale: