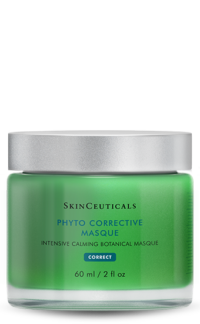 Throughout the month of January, receive 20% off SkinCeuticals Phyto Corrective Masque, available in our offices.
Phyto Corrective Masque is made of highly-concentrated botanical extracts, calming agents and hyaluronic acid to provide intense soothing and replenish skin after temporary reactivity, such as post-procedure swelling or redness. It is a calming face mask that cools your skin on contact, comforts sensitivity and gives your skin back its natural glow and smooth texture.
Phyto Corrective Masque has been clinically tested after procedures to effectively reduce redness and discomfort. Procedures include laser treatments, extractions, photodynamic therapy, intense pulsed light therapy and other in-office procedures.
The mask also works to help calm skin after workouts, sun exposure or even hot baths. Travel, chlorine or salt water exposure from swimming and wind burn can also be treated with the mask.
Stop by before the end of the month to stock up on this useful addition to your skin care regimen!